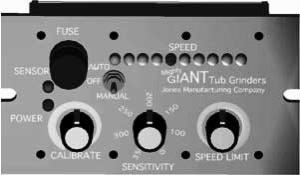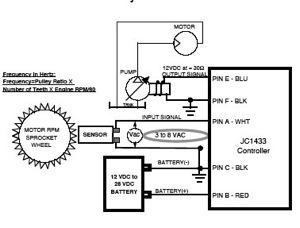 Specifications
Absolute Maximum Ratings
INPUT VOLTAGE
12 TO 30 VDC at 0.1 AMPERES (PLUS LOAD CURRENT)
OPERATING CURRENT at 12.6 VDC
0.2 AMPERES (PLUS LOAD CURRENT)
OPERATING CURRENT at 26 VDC
0 to 0.1 AMPERES (0 – 100 milliamperes DC)
LOAD CURRENT/VALUE CURRENT
40 VDC
REVERSE POLARITY PROTECTION
-
OPERATING TEMPERATURE
20 DEGREES FAHRENHEIT to 120 DEGREES FARHENHEIT
SIGNAL INPUT
2 TO 40 VRMS(Typical Ratings)
SIGNAL INPUT IMPEDANCE
43,000 OHMS (Typical Ratings)
TEMPERATURE DRIFT
+/- 20 HERTZ OVER OPERATING TEMPERATURE RANGE
ENGINE UNDER SPEED
RESPONSE TIME
0.04 SECONDS/3% (Typical Ratings)
CASE
ALUMINUM
MOUNTING
Mechanical, TWO 5/16 INCH DIAMETER BOLTS. HOLES LOCATE 1/4 INCH FROM FRONT PANEL'S EDGE AND SPACED 5.25 INCHES BETWEEN HOLES
Dimensions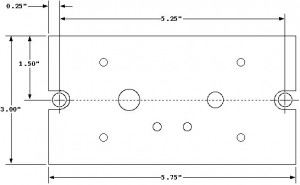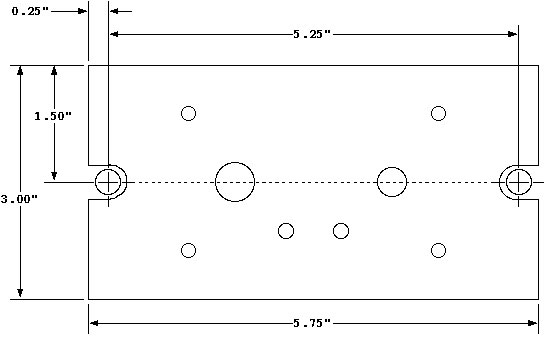 The controller mounts by two mounting notches on the side of the controller's front panel. A slot fitting rubber grommet held with a bolt through a metal tube/spacer inside the grommet, helps with vibration isolation. Although the unit can withstand some vibration levels and many temperatures of operation, it is a good practice to mount the unit in a location where these effects are minimized.
Setup
The JC1433 has a six pin connector to connect power input, signal input, and the controller's output. This connector is keyed so that the connector can only connect one way. Each of the six contacts of the connector is labeled with a letter (A-F).
Five of the six connectors are used on the JC1433.
A – Signal Input (WHITE)
B – Power Positive (RED)
C – Power Neutral (BLACK)
D – N/C E – Output Positive (BLUE)
E – Output Neutral (BLACK)
Troubleshooting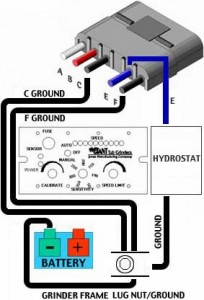 Clean under the lug nut. Scrape off any paint on the Grinder Frame surface where the surface of the lug nut meets the surface of the grinder frame.
Make sure to connect pins C and F from the connector of the control box directly to the lug nut on the grinder frame which is ground.
Clean the battery from time to time.


Method of isolating JC1433 from electrical power system surges & voltage spikes, on a few & rare older engine systems.